All About Me: Ai-Vy | Melbourne Kids Photography
---
Meet Ai-Vy.
At 9 years old she loves to dance ballet and jazz as well as play the violin and piano. Not only does she have a creative flair she also likes using the other side of her brain. You see Ai-Vy is fascinated with dinosaurs and wants to be a paleontologist when she grows up. Good luck Ai-Vy!
Does your child have a passion or talent?  Our "All About Me" sessions are a great way to showcase your child's personality. Whether they like to dance, paint, play sport or a musical instrument, this is an excellent opportunity to document their growing interests and talents.  
Call the studio to find out how we can create one of these beautiful memento video pieces for your child. As a parent just imagine what it would feel like to look back many years from now and see your adult child as they are today.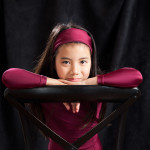 Share this post