About Warren…
Hi there, if you've spent any time on this site, you would know that when you book a photography session with us, we try to discover as much as we can about you and your family so that we can make your photography more personalised.
Therefore I think it is fair that you find out a little more about me. So…what do you want to know??
Well I was born in Sri Lanka and came to Melbourne when I was 3 years old.  My heritage has resulted in my love for hot weather, the beach and all things outdoors – sport, fly fishing, bush walking, camping.
Family is so important to me and my idea of a great day would be spending it with my partner and 13 year old son, Jesse and my 18 month old daughter, Aria; even if that meant just doing nothing but lazing around the house.
You can see more images of Aria from her newborn photo session here.
Did I mention I love sport?? Having Sri Lankan blood in me means I have no choice but to love cricket (which I played at a high level). Melbourne winters make me want to #@!**!#. The only good thing about the cold weather is that the football is on. I am a Hawthorn nut and have been since I first came to Australia. If the Hawks are playing you can pretty much guarantee I will be at the "G" supporting them.
I love kids or should I say they love me. I think this is because I am always acting like a fool (well that's what the other adults tell me) and I don't take things too seriously.
Oh, one more thing…….I am a qualified canine behaviourist. A what?? Well, I used to train dogs and also visited client's houses and helped them fix issues they were having with their dog's behaviour.
I trained my dog Oscar to a very high level of obedience which led to us doing competitions together. That's him below on the front of the local newspaper, jumping over an obstacle during a training drill. Sadly, Oscar passed away from cancer around Christmas 2013.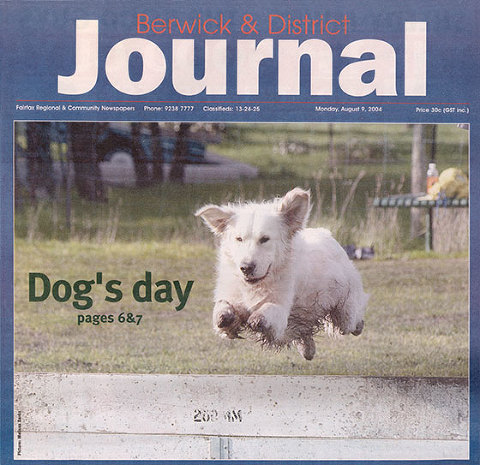 Finally if you want to know what my most treasured image is, it is this one of me cutting the umbilical chord when Jesse was born. The photographer aka midwife composed it poorly, cropped it poorly and the lighting was all bad but I don't care as it was the best day of my life.
Download Our Guide
Five Ways to Build Strong Relationships With Your Kids Now and Into The Future